Often lack of real-time data available leads to uncoordinated incident response. This is why a reliable guard tour source is integral to a successful security business. The guard tour system must be built to improve and simplify the process of delivering emergency services with the ultimate accuracy. Deggy offers a brilliant guard tour system designed to meet the end-to-end need of a security business. They are designed to improve the flow of communication by organizing large amounts of data in a meaningful format. This technology leads to lower costs and increased flexibility for the system to cope with changes and new applications. 
Guard tour systems seem to have become the norm for tracking your security officers. If you want to implement an efficient guard tour system, enhance your organization's security with Deggy. Their guard tour system is based on cloud & mobile tracking technology. Guards are more accountable since the security guard tour system cannot be tampered with. It is easy to schedule duties, reflect guards in live, record incidents, and prepare daily or monthly reports, and so on. Deggy's guard tour system helps you track the security patrols while giving customers accurate security data, advanced information and tour graphs, powerful report summaries, automatic emailing of reports and much more. It helps the user show how the guard patrol officers are working as expected.
A few words from a spokesperson at Deggy "Security patrol tracking has never been so easy and efficient. Use our guard tour system to make things easy and verify your guards in real time. It will give you the assurance that the guards are working as per the schedule and remain safe during their duty. We built a fantastic product and empowered an array of companies in the security industry & several other fields. It increases customer satisfaction, employee accountability & safety. We have got the most reliable yet real-time security guard tour system for our clients. Adding it will improve the speed and effectiveness of your guard patrol service. Our security guard tour system helps in mitigating the human errors that might otherwise creep into your operations. Many organizations & institutions use our high-quality guard tour system to improve security management and guard monitoring. Let us help you adapt the Deggy guard tour system to the specific needs of your company. We will guide you through the process and give insights on how to solve common physical security problems. Win more contracts by offering your clients the most transparent service backed by our state-of-the-art guard tour system and win greater client satisfaction. Make effective decisions based on our guard tour system & improve your security guard's efficiency."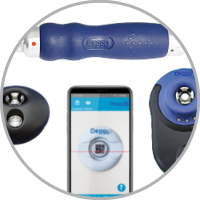 About the company
Deggy is a recognized name and symbol of dependability in the security industry. They use innovative technology to produce the best guard tour system for clients. They work hard to be the leader in the security industry and are happy to provide the most reliable and durable guard tour products and services in the market.