In recent years, conservation of the environment has been a hot topic all over the world. There is pressure from environmental activists to completely stop the use of plastic products altogether, and governments all over the world are taking steps to accomplish this goal.
As the environment is deteriorating fast, it is our responsibility to switch over to the use of eco-friendly products. One of the various ways to do such is to use eco-friendly carry bags. Considering this, DD Enterprises, the best amongst manufacturers of non-woven carry bags in Bhubaneswar, stands by our side to accomplish that. As a company that cares for the environment, it has made it possible to replace plastic bags with non-woven carry bags that are eco-friendly.
The concept of non-woven carry bags first was introduced in China. They carefully crafted the bags using polypropylene. The usage of polypropylene gives the bag a cloth-like finish, and as the name suggests, it does not require any weaving while manufacturing. DD Enterprises makes it possible to use such eco-friendly bags without cutting a hole in our pockets at affordable prices. Moreover, they are eco-friendly as these bags are 100% recyclable. Paper bags are also recyclable; however, you can use that for a limited time. On the other hand, woven bags put pressure on the industrial process while recycling them. Non-woven bags are easier to manufacture, so these bags also score higher in this aspect.
One of the spokespersons of DD Enterprises said, "It is possible to reuse the non-woven bags manufactured by us. This is possible as the bags are durable. So, if you purchase non-woven bags from us, you do not have to bother about purchasing carry bags frequently. Moreover, using such bags you can play your part to save the environment from further degradation. You can use the bags manufactured by us for various purposes. It is also possible to have the best graphics and content on the bag enabling you to promote your brand effectively. We have the capability to customize the bags according to your desires and so purchasing such non-woven bags are beneficial in every aspect."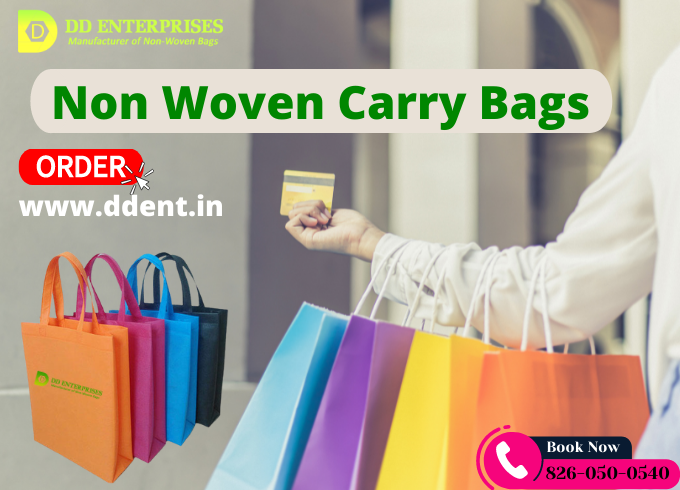 If you have already made up your mind to use non-woven bags manufactured by DD Enterprises, it is prudent to know some of the other advantages. For example, it is possible to have more excellent air circulation in such bags; the bags are waterproof, it repels liquids, you can wash them after use, and they are bio-degradable.
About DD Enterprises
DD Enterprises, the best amongst manufacturers of non-woven carry bags in Bhubaneswar, is committed to offering the best quality non-woven bags. They even customize the bags according to clients' requirements and help them promote their brand effectively. Moreover, they have kept their price affordable without any hidden costs. So, call them at 8260500540 to discuss your requirement for non-woven bags.