The very reliable trader of non woven carry bags in Bhubaneswar got you covered. We will be serving your business with customized solutions for non woven carry bags. We can handle and prepare orders in any quantity you need and with your brand logo. Whether we want customized carry bags or the simple ones, we have everything.
Available in different colors and styles, choose the one of your choices!
The wholesaler of quality & environmental-friendly non woven bags is here to serve you.
You have found the right solution to choose for your carry bag requirements. We being a leading wholesaler sells outstanding material of bags at an affordable rate. We supply our carry bags in Bhubaneswar, Cuttack, and nearby areas.
With the right guidance of our managers, we have reached the position of a trusted non woven carry bags dealer. We have gained regular clients from all over the state, they choose us for the stupendous quality we offer. DD Enterprises believes in providing exceptional D cut, W cut, Loop handles, or printed carry bags at a reasonable price. When you have chosen DD Enterprises to serve you biodegradable non woven carry bags just be sure of the best value for your money.
The quality we serve is absolutely reliable. Hence, our bags are best for your needs. Just let us know your needs, and we will get the order ready within the time promised.
Our clients have trust in us, and we have always fulfilled clients' expectations. DD Enterprises is consistent and transparent in business. Choose no other than us because we are the trusted dealer of compostable non woven bags.
Non Woven Carry Bags For Sales in Bhubaneswar: Please check out our product list today.
Non Woven W Cut Plain Bags at ₹175 per kg.
Non Woven W Cut Printed Bags at ₹250 per kg.
Non Woven D Cut Plain Bags at ₹160 per kg.
Non Woven D Cut Printed Bags at ₹230 per kg
Loop Handle Plain Bags at ₹180 per kg
Loop Handle Printed Bags at ₹240 per kg
Choose the style or color you want or can even print your brand logo if you want. Be sure of receiving superior quality services.
We promise to deliver the best carry bags at best rate. We won't let you down. Our carry bags are manufactured from superior materials you can rely on our products and service.
Contact us today, we will address you immediately.
If you are still using plastic bags say bye to it. Non woven bags must be what you should go for.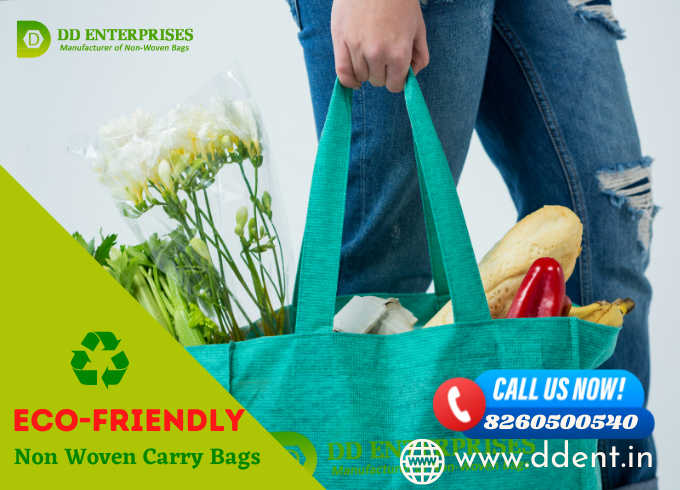 The non woven carry bags are biodegradable, eco-friendly, compostable, and recyclable.
Share with us the order details today. We will make your order ready within the time promised.
Reach out to us soon, the leading Non Woven Bag Dealers & Traders in Bhubaneswar, call us for any queries.
Contact Us:
Email: sales@ddent.in
Phone: 8260500540