CBT College is one of the electrical tech schools in Florida that has three campuses across Miami-Dade County, like Cutler Bay, Flagler, and Hialeah. They aim to help students to excel in the electrical trade by preparing them as skilled workers. Their electrical technology and diploma program includes 
Two-year electrical technology associate degree
Eight-month electricity technician diploma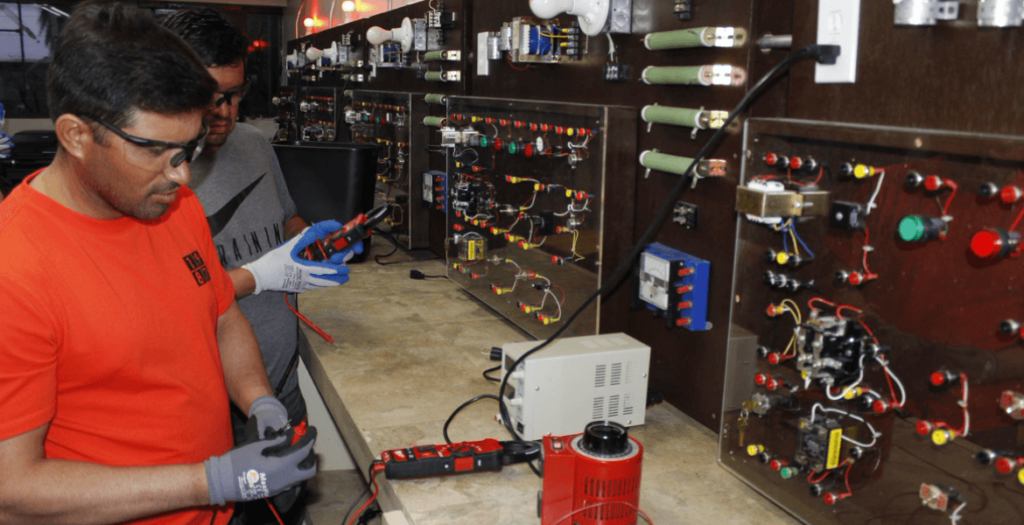 Their electrical trade training programs aim to prepare students with hands-on training and education for becoming competent entry-level or mid-level electricians.
CBT College's Electrical Technology Associate Degree:
Their A.S. in electrical technology program is available at Flagler and Hialeah campuses in Miami, Florida. It takes students 20 months to 24 months to complete the program and earn an associate degree. Their electrical technology program is available in both English and Spanish with classroom instruction and hands-on training. CBT College has industry experienced instructors who help students
Learn the fundamentals of electricity
Understand the job site safety regulations
Repair, install and maintain electrical projects
Know the difference between working in residential, industrial, and commercial facilities with correct electrical codes
Install green technologies (PV Systems) and more
CBT College's Electricity Technician Diploma:
The electricity technician diploma program at CBT College is available in Flagler (Main Campus), Cutler Bay, and Hialeah Campuses of Miami, Florida. You receive classroom instruction from industry professionals and hands-on training by enrolling in their electricity technician diploma program. Their diploma course prepares you for a career as an electrician with entry-level proficiency and skills.
A few lines from CBT College, "We understand that education is an essential aspect of our society. At CBT College, we firmly believe that every business should be relevant to fulfill the community's needs. Our passion is to educate students on practical skills alongside technology. We prepare students with the highest ethical, technical, and professional excellence to build a better life for themselves, their families, and the community.
Our electrical training programs are designed to create a practical and theoretical foundation for the students. We aim to prepare the students for their profession with quality education and hands-on training experience."
About CBT College:
CBT College provides career training and hands-on learning for electrical technology, allied health, IT, and construction programs.
Their college campuses are conveniently located in three locations across Miami-Dade County, like Hialeah, Cutler Bay, and Flagler. CBT College has graduated thousands of students into the Miami-Dade County workforce. Their involvement with employers, local organizations, and strategic business initiatives creates plenty of opportunities for students and graduates. CBT College is a Military-friendly school that participates in the Yellow Ribbon GI Education Enhancement Program.If you want to join electrical tech schools in Miami, Florida, contact CBT College today. Call them today at 786-724-1478 or fill this form https://www.cbt.edu/request-info/ to learn more about their associate degree electrical technology and diploma programs!