Students who want to pursue a career in the allied health field can consider taking up an 8-month medical billing and coding training program at CBT College to start a career in this high-demand occupation.
The Allied Health School at CBT College provides medical billing and coding training programs to help students earn a diploma and start a career in the healthcare industry. Do you want to begin a fulfilling career in the healthcare field quickly? You can consider pursuing diploma training in medical billing and coding at CBT College. It can be a great way to launch your career with CBT College.
There is no doubt that medical billers and coders are in high demand. With the continuous advancement in technologies, medical billers, coders and other healthcare information professionals have become vital across the healthcare system. According to the Bureau of Labor Statistics (BLS), there is around 11%-12% growth in the healthcare information field until 2029. The growth rate for medical billers and coders is much faster than the average for all occupations.
If you want to join the specialized healthcare information field, CBT College can help you navigate your career path. Their medical billing and coding diploma program are designed to prepare graduates to deal with real-world challenges. During their 8-month diploma program in medical billing and coding, you receive hands-on training and learn the ins and outs of medical billing procedures and code sets. With CBT College's training program, you get the training, education, and knowledge to begin a successful career in the healthcare information field. 
Students who complete the medical billing and coding diploma training program at CBT College are eligible to take the Certified Coding Associate (CCA) conducted by AHIMA and the Certified Professional Coder (CPC) Exam conducted by AAPC. As per the requirement, you can get the certifications to obtain a competitive edge in the medical billing and coding job market.
A few lines from CBT College, "As a School of Allied Health, we aim to inspire our students to be the best in their field. Our goal is to prepare students with high moral values and good knowledge. It helps them to prosper in their career and contribute to their community. CBT College provides students the education and hands-on training to enhance their career opportunities. 
Our diploma program for medical coding and billing available at the Cutler Bay Campus has a career-focused approach. We aim to provide education and training that shapes students' futures and prepares them to face workplace challenges. As a Miami Florida Based medical billing and coding school, we have a financial aid facility for students."
If you want to take you one step closer to work in the healthcare industry, consider taking up CBT College's diploma program in medical billing and coding.  
About CBT College:        
CBT College was founded in 1988 by Fernando and Gladys Llerena with the mission to prepare and graduate students with the highest moral, professional, and technical excellence.  
CBT College provides career training through a hands-on learning approach within the allied health, Information technology, and construction field. They have campuses in three locations across Miami-Dade County- Cutler Bay, Flagler, and Hialeah.
Over the past years, they have graduated thousands of students into the Miami-Dade County workforce. CBT Colleges' involvement with local organizations, strategic business initiatives, and employers opens up plenty of opportunities for our current students and graduates. The College is nationally accredited by ACICS, certified by the US Department of Education to receive Title IV funding, and licensed by the Commission of Independent Education (CIE). CBT College is listed as a Military-friendly school that participates in the Yellow Ribbon GI Education Enhancement Program.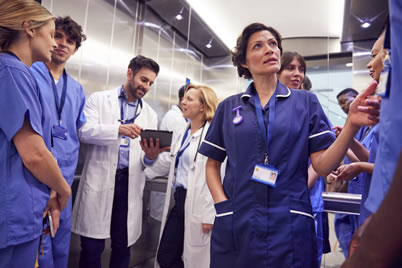 Contact CBT College today at 786-724-1478 or fill this form https://www.cbt.edu/request-info/ to know more about their medical coding and billing training program!