If you plan to visit Jordan on a pilgrimage or Holy Land Biblical tour, then trust Go Jordan Tour. They help you cover the most exciting places in Jordan that are biblically significant and how much such areas appear in the Hebrew and Christian scriptures. The Go Jordan Tour introduces you to the Biblical sites found in the country of Jordan. They provide a non-exhaustive list that gives you a robust foundation for understanding some of this land's Biblical events and personalities. Being one of the leading tour& travel management companies in the Jordan tourism industry, they offer a wide array of benefits to their local & global clientele. They ensure that your Biblical tours with them are a once-in-a-lifetime experience.
The Go Jordan Tour has been in business for many decades. They are the market leaders and innovators and like to apply their extensive experience and ever-expanding knowledge in their work while planning each Biblical tour & another tour itinerary. They have conducted tours to every possible destination in Jordan many times over the years. Their tour operators & employees know how to make your travel experience as safe, comfortable, and memorable as possible. If you are looking for Christian Tours in Jordan, then Go Jordan Tour offers you a fascinating travel experience in their Biblical Tour covering many of the ancient Biblical sites in Jordan. They focus on adapting to the individual needs and desires. They aim to build a solid and lasting relationship with clients based upon honesty and reliability to provide them with excellent support e time after time.
"We are passionate about introducing guests to the remarkable Biblical sites in Jordan and leave no stone unturned. We have mastered in providing excellent service and experts in the art of customer satisfaction. Our Biblical tours are suitable for individuals, couples, families or small groups, and can be adapted for larger groups. We work with customer-centric programs, and itineraries tailored around client's needs and desires. Our tailor-made options & ability to customize your trip assure you a personal experience to the last detail. We are placing ourselves in the care of clients and offer professional, reliable, courteous and highly knowledgeable tour guides for you. Our service extended to our guests will be accurately tailored to please clients' needs. Flexibility is the characteristic that makes us pride ourselves and we strive to provide you with the best service and tour programs possible. All the Biblical tours we organize are privately guided by our skilled team committed to providing you with a highly intuitive, fun and value-packed experience. To make your job easy we accept online payments in multiple currencies and, we can communicate in multiple languages to make your journey as easy and simple as possible." Say a spokesperson for the Go Jordan Tour.
About the company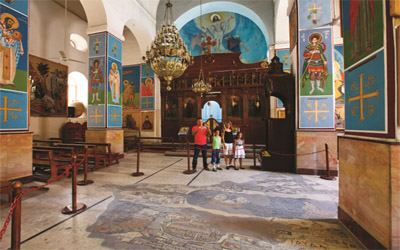 Go Jordan Tour is a specialized tour operator & travel management company dedicated to providing tailor-made tour packages and itineraries covering the spectacular delights that Jordan have to offer. They understand the value of your time & desire and help you get the best out of your investment.