Voyage2Africa specializes in bespoke and one of a kind African travel packages to share the spectacular wildlife safari experiences that East and Southern Africa has to offer.
Content –
(Cape Town, South Africa, July 20th, 2023) –
Voyage2Africa is a leading name in the African tour and safari industry and ios dedicated to offering a comprehensive range of African travel packages to explore the best the African continent has to offer. Whether seeking adventure, cultural experiences or simply looking to spend quality time amidst nature, Voyage2Africa Africa safari tour packages have something for everyone. As our guests embark on an exciting journey through the heart of Africa's captivating landscapes, abundant wildlife encounters, and vibrant cultural experiences.
Committed to delivering exceptional African travel experiences, Voyage2Africa stands out as the go-to tour operator for discerning travelers seeking authentic adventurers venturing into Africa. Our travel packages are meticulously hand crafted to offer safari lovers immersive, unforgettable encounters with the best wildlife and national parks in Africa. From the spectacular savannahs of the Serengeti National Park to the picturesque Okavango Delta in Botswana or the mighty Victoria Falls, every one of our travel package showcases the best of African experiences. Our African travel packages designed by experienced consultants offer a seamless and personalized experience. With a professional team of expert guides and hospitality professionals, we specialize in designing every detail of the travel packages ensuring a perfect blend of adventure, luxury, and cultural experiences.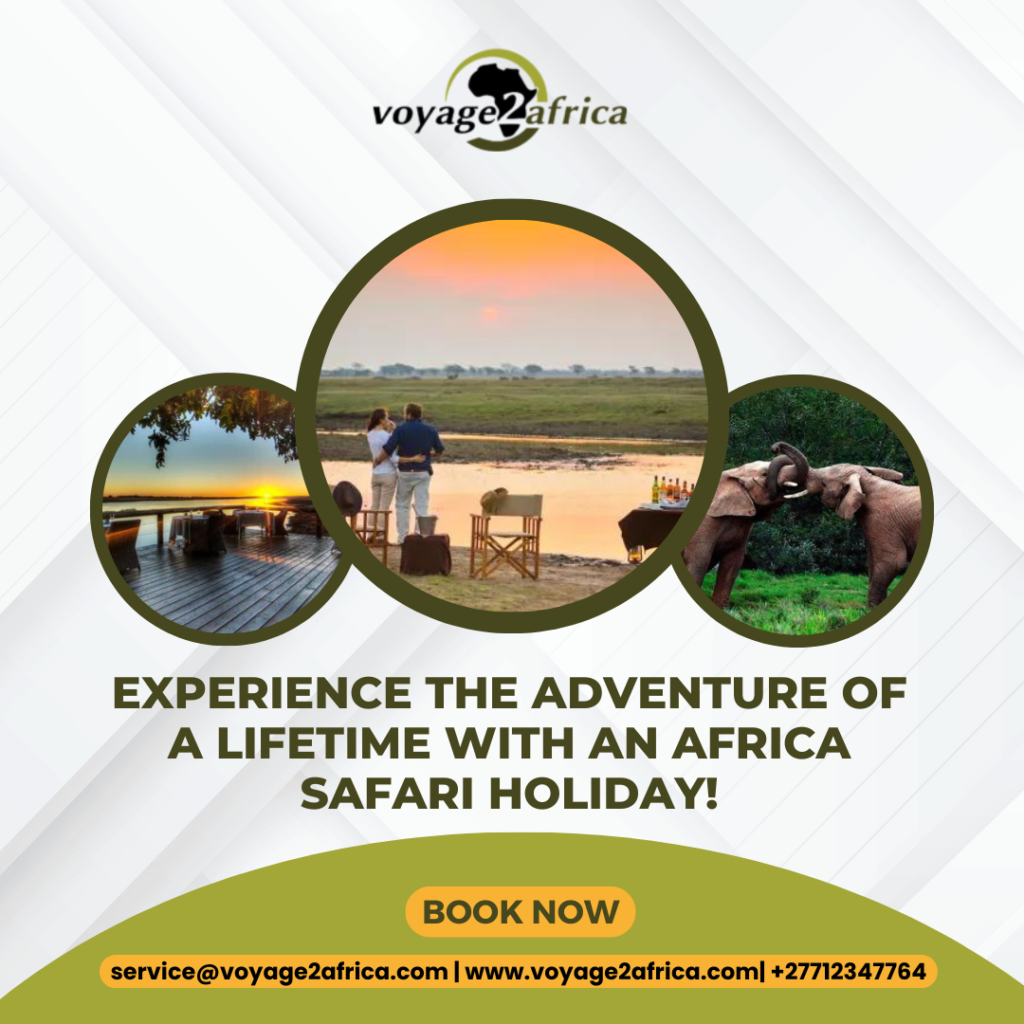 Voyage2Africa offers a wide assortment of African tour options available like Kruger Park Tours, Victoria Falls Tours, Okavango Delta Tours, Mozambique Tours, Namibia Tours, Kenya Tours, Tanzania Tours, etc. Their packages include wildlife safaris, exhilarating outdoor activities, cultural encounters with local communities, and luxurious accommodation options. Whether looking to explore the expansive plains of Kenya, gorilla encounters in the misty mountains of Rwanda, or marvel at the natural beauty of Victoria Falls, Voyage2Africa offers an awe-inspiring vacation experience.
"We are looking forward to allowing travelers to experience the true essence of Africa like never before. Our team has expertly crafted Africa tour itineraries to showcase the magnificent biodiversity, cultural heritage, and warm hospitality that Africa is famous for. We invite vacationers to come and visit with us to make the most out of their journey and get back with lifetime memories to treasure forever", says a spokesperson for Voyage2Africa.
About the Company –
Voyage2Africa is a premier safari tour operator dedicated to offering extraordinary travel experiences throughout Africa. Passionate about the natural wonders, cultural heritage, and wildlife encounters, Voyage2Africa provides perfectly-crafted African travel packages, personalized attention to detail, and expert guidance to make sure that every journey is as memorable as possible. For more information about their tour itineraries, please visit the website at https://www.voyage2africa.com/.
Content –
Voyage2Africa
Address – 9 Avenue Bernard, Southfield 7800, Cape Town, South Africa
Email ID – service@voyage2africa.com
Website – https://www.voyage2africa.com/