Summary
Best Maya Tours is one of the trustworthy Mexican tour operators, which offers a wide variety of tour and travel packages to explore the vast country in a comfortable, convenient and safe way. Customize Tulum Coba Cenote Tour is one of the best tour packages that is appreciated by local & global travelers to Mexico.
Content
20th November 2022, Mexico
When it comes to Mayan ruins, Mexico is a paradise. You would require months to see all of the breathtaking ruins on the Yucatan Peninsula alone. The Tulum Ruins, Chichen Itza Ruins, and Coba Ruins are at least three noteworthy ruins to see while in Tulum. Due to its remarkable surroundings in the forest, simple accessibility, and generally well-preserved buildings, including the renowned Nohoch Mul pyramid, just the last listed Coba Ruins have grown in popularity and recognition among tourists in recent years. Yet, the site is by no means as crowded as Chichen Itza, and the overall visit is really enjoyable. You may wonder what to & how to explore Tulum, Coba, and Cho ha Cenote! Don't worry! Best Maya Tours put together all the information you should know before visiting Coba Ruins. They offer Tulum Coba Cenote Tour to explore the Mayan Ruins of Coba, the most visited ruins on Yucatan.
The Tulum Coba Cenote tour is a fun-filled way to discover the best of the ruins on the Yucatan in a relatively short period. Focusing on this fact, Best Maya Tours has been organizing customized Tulum Coba Cenote tours and excursions that cover magnificent sightseeing attractions. It allows tourists to get the perfect experience for a lifetime. They have licensed private tour guides that are committed to ensuring an exceptional adventure while visiting every sight of Yucatan. The Tulum Coba Cenote tour packages available at Best Maya Tours include two options: an exclusive small day tour which takes a minimum of six to 10 people. All their private day tours are highly flexible, allowing travel enthusiasts to spend as much or as little time anywhere they choose. Best Maya Tours' Tulum Coba Cenote tour package features Tulum, Coba, Cho ha Cenote, etc.
All of the day tours and excursions are conducted in a private air-conditioned luxury van including personal pickups from the hotel. Providing a government-licensed English-speaking tour guide, Best Maya Tours is dedicated to assure clients with a completely exciting travel experience. These tours include transportation, tour guide assistance, and entrance fees – excluding meals or other personal expenses. For the ultimate convenience of clients from last-minute chaos, the certified tour company has been offering a booking facility with a small and easy-to-use portal. Offering a well-designed tour itinerary guided by the Multi-Dimensional view, private tours in the Yucatan peninsula with Best Maya Tours are beyond all the travel expectations of clients. Besides, the tour packages offer the ultimate opportunity to discover the exotic land, to enjoy every minute in Mexico – touching, feeling the archaeological history, and getting to know as well as interacting with the local people.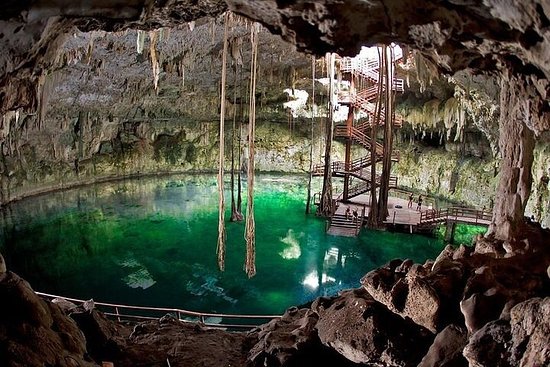 "Upon choosing Tulum Coba Cenote tour packages, we strive to deliver a unique experience, making your dream vacation a reality. Every tour package is customized to suit your travel needs the best. Rest assured that, at Best Maya Tours you will be not only provided with the highest quality tour guidance but your special needs will be taken care of – making for a satisfying experience that you won't forget soon", says one of the spokespersons of Best Maya Tours.
About the Company
Best Maya Tours is a reliable and reputable tour operator offering day tour packages in the Yucatan peninsula to those – who are in search of fun, excitement, and adventure while visiting Mayan archaeological sightings in Mexico. The tour specialist is dedicated to providing full-personalized tour itineraries for your unique preferences and travel desires. For immediate availability, contact Best Maya Tours today!
Contact Information
Best Maya Tours
Call: +52 55 44 98 51 84
Email: info@bestmayatours.com